This article is about the cheese pot from Shaggy & Scooby-Doo Get a Clue! continuity. For the one from Scooby-Doo! Mystery Incorporated continuity, see Fondue (Scooby-Doo! Mystery Incorporated).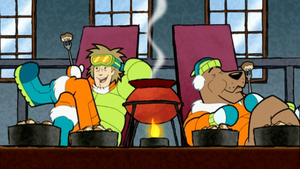 Fondue is a Swiss, Italian, and French dish of melted cheese served in a communal pot over a chafing stand heated with a candle or spirit lamp, and eaten by dipping bread into the cheese using long-stemmed forks.
History
Shaggy & Scooby-Doo Get a Clue!
Season one
After stopping Dr. Phineus Phibes from melting the snow off Mount Zeryodelwietzen, and causing an avalanche over Zeryodelwietzen Hotel, Shaggy Rogers and Scooby-Doo celebrated with fondue.[1]
Appearances
References
External links
Ad blocker interference detected!
Wikia is a free-to-use site that makes money from advertising. We have a modified experience for viewers using ad blockers

Wikia is not accessible if you've made further modifications. Remove the custom ad blocker rule(s) and the page will load as expected.