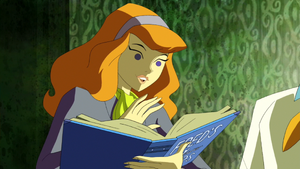 Fred's Traps is a scrapbook containing pictures of the past traps made by Fred Jones, Jr.
History
Scooby-Doo! Mystery Incorporated
Season one
When Daphne Blake got Fred alone in his room at the Drowsy Gator Hotel, all he wanted to do was reminisce over his past traps, which she expected to be less about traps and more about just the two of them.[1]
It came in handy, though, as he used one of them to trap the Creeping Creatures.
Appearances
References
Ad blocker interference detected!
Wikia is a free-to-use site that makes money from advertising. We have a modified experience for viewers using ad blockers

Wikia is not accessible if you've made further modifications. Remove the custom ad blocker rule(s) and the page will load as expected.