This needs a stretch.
Needed:
* Dynamic.
* History is incomplete.
This article is about Fred and Daphne in standard continuity. For other incarnations, see Fred Jones and Daphne Blake (disambiguation).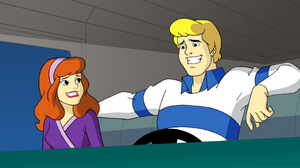 Fred Jones and Daphne Blake are members of Mystery Inc., who have a hidden attraction to one another, which can sometimes cause romantic tension between the two, especially when one of them gets the attention of another person.
Dynamic
Insert details here.
History
A Pup Named Scooby-Doo
Insert details here.
Scooby-Doo! and the Witch's Ghost
Velma wanted to know why Fred was always pairing off with Daphne, causing Daphne to blush and Fred to answer nervously.[1]
What's New, Scooby-Doo?
On a case to lure out the evil versions of the gang during Valentine's Day, Fred and Daphne have to go on a faux date, but felt uncomfortable and unconvincing the whole time.[2]
Scooby-Doo! Stage Fright
One of the nights at Hotel Canard, Velma found Daphne was outside on the balcony, who sadly told the former that she had been in love with Fred all those years.[3]
References