This article is about Fred and Velma in standard continuity. For the pair in other continuities, see Fred Jones and Velma Dinkley (disambiguation).
This needs a stretch. (Feel to remove when satisfied of completion.)
Needed:
* Dynamic.
* History is incomplete.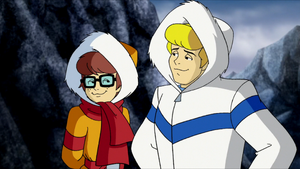 Fred Jones and Velma Dinkley are the real crime-solvers of Mystery Inc. (in stark contrast compared to the other members in the group), putting all the clues together and setting the traps, respectively.
Dynamic
Insert details here.
History
A Pup Named Scooby-Doo
During the Dinkley 2000 case, Freddie kept on forgetting that the "new girl" was really Velma in disguise.[1]
Scooby-Doo and the Cyber Chase
When Fred teased Daphne Blake about calling the Phantom Virus, "Thingy", Velma smirked.[2]
Chill Out, Scooby-Doo!
Fred tried to pair himself off with Daphne, but was taken aback when she decided to split off with Pemba Sherpa, leaving Fred with Velma.[3]
References
Ad blocker interference detected!
Wikia is a free-to-use site that makes money from advertising. We have a modified experience for viewers using ad blockers

Wikia is not accessible if you've made further modifications. Remove the custom ad blocker rule(s) and the page will load as expected.