This needs a stretch. (Feel to remove when satisfied of completion.)
Needed: Physical appearance; clothing.
Fu Lan Chi
Vital Statistics
Alias
Mr. Chi
Species
Human
Gender
Male
Hair color
White
Eye color
Black
Fu Lan Chi is a native of Tibet. His guardian and companion is the White Timber Wolf.
Physical appearance
Fu Lan is an elderly Asian male with white hair, and a mustache.
Personality
He was mildly threatening when he found the gang had invited themselves in his home and wandered around. He was quick to calm, especially when he got to tell his story about his encounter with the Yeti.
History
Early life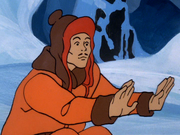 He was spotted by a Yeti and chased him to a wide gauge. Fu Lan jumped to the other side onto a narrow ledge, and it tried to follow, but the snow hid what wasn't there, so the Yeti fell to its death. It returned for revenge as a ghost, sending Fu Lan into hiding, living in a cave, near Wolf's End Lodge, somewhere in America.
Scooby-Doo, Where Are You!
Season one
The gang found his cave while searching for the ghost (now dubbed the "Snow Ghost") which they believed it to be its home. They told him what they were doing, which he believed, and proceeded to tell them his story.
Appearances
Quotes
Fu Lan: Who dares enter the temple of Fu Lan Chi?!
Ad blocker interference detected!
Wikia is a free-to-use site that makes money from advertising. We have a modified experience for viewers using ad blockers

Wikia is not accessible if you've made further modifications. Remove the custom ad blocker rule(s) and the page will load as expected.