Galina Korzhakov
Vital Statistics
Species
Human
Gender
Female
Hair color
Dusty brown
Eye color
Black
Other Statistics
Occupation
Figure skater (incarcerated)
Galina Korzhakov is a Russian figure skater.
Physical appearance
Galina has dusty brown hair tied into a large bun that hovers over her neck. She is also very short and thin. Her blue skating dress has different light and dark designs.
Personality
Galina is shrewd and edgy. However, she really doesn't seem the criminal type.
History
What's New, Scooby-Doo?
Season three
When Mystery Inc. arrived in Moscow to attend a hockey tournament, instead of the hockey team, Galina appeared on the ice rink, only to get booed by hockey fans. This made the gang consider her a suspect since it gave her a motive to terrorize the hockey tournament.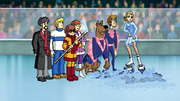 However, that wasn't her motive at all. She disguised herself as the Frozen Fiend and stole the Emperor's Cup because she wanted the priceless diamonds covering the trophy. However, she couldn't get the diamonds out of the stadium due to the tight security, forcing her to continue posing as the Frozen Fiend and scaring people away so she could hide the diamonds in the ice. She had a special dress made with fake diamonds, and was going to switch them out with the real diamonds. She also tried to frame Brett Hull by allowing the police to find part of his uniform in close proximity to the trophy (without the diamonds). By the time she was revealed as the culprit, she had already switched the diamonds and was wearing them on her dress. She tried to get away, but she was captured when the gang found her hiding in a matryoshka doll.
Appearances
Quotes
Galina: I did it because I wanted the priceless diamonds in the cup. And I would've gotten away with it if it wasn't for you meddling foreign kids!
Ad blocker interference detected!
Wikia is a free-to-use site that makes money from advertising. We have a modified experience for viewers using ad blockers

Wikia is not accessible if you've made further modifications. Remove the custom ad blocker rule(s) and the page will load as expected.