Gang of monsters
Vital Statistics
The gang of monsters were the disguises of the members of Mystery Inc., dressed up like that to expose Lance Pureheart as a fraud and coward when he claimed to be a monster fighter for hire.
Members
History
Scooby-Doo! (DC Comics)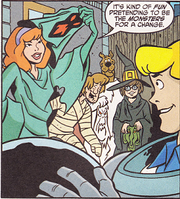 They let Murray drive them away so that he could be the town's new, free, hero. This made Murray happy because he made new friends.
Appearances
Ad blocker interference detected!
Wikia is a free-to-use site that makes money from advertising. We have a modified experience for viewers using ad blockers

Wikia is not accessible if you've made further modifications. Remove the custom ad blocker rule(s) and the page will load as expected.