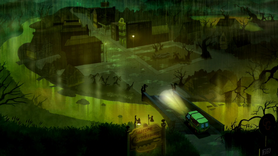 Originally intended to be a mining town, but the discovery of an abundance of alligators led to the founding of Gatorsburg. Making their living from the 'gator mines and 'gator wells, the town enjoyed great prosperity until the 'gators ran dry. The town is now abandoned, with the only people still living there being the mysterious Creeping Creatures.
History
Early history
Gatorsburg was a very rich town with the most 'gators in America, till' the 'Gator Mines' ran dry so everyone left except Greta, Grady and Gunther Gator.
Scooby-Doo! Mystery Incorporated
Season one
Insert details here. (The Creeping Creatures)
Season two
The gang visits a cemetery in Gatorsburg, where they find the grave of Señor Primero Llave. (Aliens Among Us)
Appearances
Geography
Gatorsburg is located over 3 miles away from Crystal Cove. If an engine is ordered at night, it won't arrive until morning.