Ghost Clown (Scooby-Doo! Who's Watching Who?)
Vital Statistics
Gender
Male
Hair color
Red
Eye color
Black
Other Statistics
Identity
Samson S. Samson
Reason
To expose poor treatment of Sugarland workers
The Ghost Clown was the disguise of Samson S. Samson.
Physical appearance
The Ghost Clown has a white face and hands, red hair and a pink nose. He wears a black hat with a pink puff on the top. His outfit consists of of red coat and pants, with an orange collar and buttons.
History
Scooby-Doo! Who's Watching Who?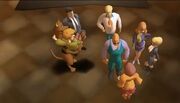 The Ghost Clown resembled the old "Candy Clown" symbol of Sugarland. He was first seen during a chase. He was trapped by being hit by a hammer, knocked over by barrels, and lowered into a vat of chocolate. He was revealed to be Samson S. Samson, who wanted to use the "Ghost Scene Investigators" program, to expose Sylvester Sweetsugar, of being a "bad boss".
Ad blocker interference detected!
Wikia is a free-to-use site that makes money from advertising. We have a modified experience for viewers using ad blockers

Wikia is not accessible if you've made further modifications. Remove the custom ad blocker rule(s) and the page will load as expected.