This needs a stretch. (Feel to remove when satisfied of completion.)
Needed: History is incomplete.
Ghost of Chip Braverton
Vital Statistics
Species
Human/ghost
Gender
Male
Hair color
Dark gray
Eye color
Yellow (black sclera)
The Ghost of Chip Braverton was the disguise of Dustin Wallswreath, impersonating the late Gypsy Moths star player, Chip Braverton.
Physical appearance
The Ghost of Chip Braverton was tall and muscular, with glowing gray skin, glowing yellow eyes, and a thick handlebar mustache.
Personality
He was aggressive and terrifying, quite unlike the real Chip.
Powers and abilities
He was apparently quite fast as he was able to keep with a baseball cart quite easily. Unlike the real Chip Braverton, he was a poor batter.
History
Be Cool, Scooby-Doo!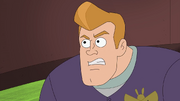 He was ignorant to how bad of a player he was, and wanted revenge for Jack Turner, the team manager, for firing him, and making him facilities manager of Middleton Baseball Stadium where they played. So he tried to scaring everyone away as the Ghost of Chip Braverton, to force the stadium to close.
Appearances
Ad blocker interference detected!
Wikia is a free-to-use site that makes money from advertising. We have a modified experience for viewers using ad blockers

Wikia is not accessible if you've made further modifications. Remove the custom ad blocker rule(s) and the page will load as expected.