This article is about the fake ghost of Magnolia. For the real ghost, see Magnolia.
The Ghost of Magnolia was the disguise of Dixie Doo, who wore it to catch the fake Ghost of Colonel Beauregard and to keep him from getting an emerald necklace.
Physical appearance
She looked like the portrait of Magnolia, but she was all bluish-white.
History
The New Scooby-Doo Mysteries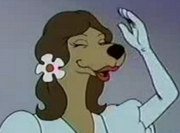 When the Ghost of Beauregard had just gotten his hands on the necklace, she appeared to claim it as hers and grab it from him. The resulting chase led to the capture of Pops Baloney, who was masquerading as the ghost. She then unmasked and revealed herself to be Dixie.
Appearances