Ghost of Marie Laplaque
Vital Statistics
Species
Human/ghost
Gender
Female
Hair color
Reddish-brown
Eye color
Purple
Other Statistics
Identity
Aunt Glenda
Reason
To make the town realize its true history
The Ghost of Marie Laplaque was the disguise of Fred Jones' Aunt Glenda.
Physical appearance
She appeared in glowing pirate garb, dripping seaweed and waving a long cutlass.
Personality
She was angry and demanded her due.
Powers and abilities
She claimed the power to flood the town, but she never demonstrated any real supernatural powers.
History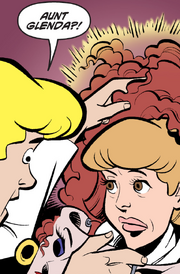 Scooby-Doo! (DC Comics)
Season one
She wanted to shock the town of Lighthouse Harbor into discovering their true history. She dressed up as the ghost of the famous pirate Marie Laplaque who had supposedly cursed the town.[1]
Appearances
Quotes
"And here I be! I've come for my due! If ye do not heed me, yer precious lobster beds will be ruined and I'll flood yer town!"
- Ghost of Marie Laplaque
References