This needs a stretch. (Feel free to remove when satisfied of completion.)
Needed:
* Personality.
* History is incomplete.
The Ghost of Merlin was the disguise of Zarko the magician.
Physical appearance
Merlin's ghost resembled a Caucasian male with a large white mustache and beard. He wore a red wizard robe and a pointed orange hat with various yellow shapes on it, such as stars and moons.
Personality
Insert details here.
Powers and abilities
Teleportation: Using stage magic tricks like puffs of smoke and projections, he made himself and the Knight appear and disappear.
Mesmerism: He temporarily hypnotized Shaggy Rogers and Scooby-Doo into thinking they were his evil henchmen.
History
The Scooby-Doo Show
Season one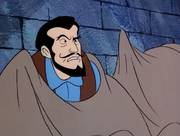 He also disguised his henchman as the Black Knight to steal Shaggy Rogers's uncle's jewels.
Appearances
Other continuities
Scooby-Doo 2: Monsters Unleashed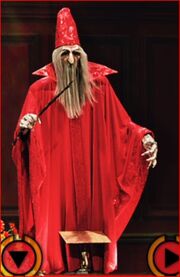 Its costume was on display in the Coolsonian Criminology Museum.
In other languages
Notes/trivia
The Ghost of Merlin appears in the opening of The Scooby-Doo Show.