This needs a stretch. (Feel to remove when satisfied of completion.)
Needed:
* Personality.
* History is incomplete.
Phantom of Milo Booth
Vital Statistics
Species
Human/ghost
Gender
Male
Hair color
Black
Eye color
Black (red sclera)
The Phantom of Milo Booth was the disguise of Jim Moss. Milo Booth was a famous movie actor who starred in the original version of the movie Scooby-Dee was making, but died 20 years before the making.
Physical appearance
The phantom wore the costume of the Phantom of Dixie, which Milo Booth played in the original version of Dee's film.
Personality
Insert details here.
History
The Scooby-Doo Show
Season two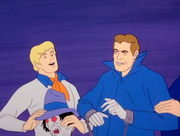 Moss tried to use the disguise to dog-nap Scooby-Dee so he could get rich making movies with his own dog disguised as her.
Appearances
Other continuities
Scooby-Doo 2: Monsters Unleashed
He was one of the costumes on display in the Coolsonian Criminology Museum.
In other languages
Ad blocker interference detected!
Wikia is a free-to-use site that makes money from advertising. We have a modified experience for viewers using ad blockers

Wikia is not accessible if you've made further modifications. Remove the custom ad blocker rule(s) and the page will load as expected.