This needs a stretch.
Needed:
* Personality.
* History: It's more about Dr. Jekyll than the Ghost of Mr. Hyde.
Ghost of Mr. Hyde
Vital Statistics
Alias
Mr. Hyde
Species
Human/ghost
Gender
Male
Hair color
Gray
Eye color
Black
Other Statistics
Identity
Dr. Jekyll
Reason
To steal jewels
The Ghost of Mr. Hyde was the disguise of Dr. Jekyll.
Physical appearance
The ghost of Mr. Hyde possessed green skin with big, white beady eyes, and long, dark gray hair. With a slender disposition, he also hade boney fingers, a very slim face and visible cheek bone marks. Mr. Hyde sported a long, dark green trench coat as well as a black, tight fitting hat.
Personality
Insert details here.
Powers and abilities
Dr. Jekyll kept suction cups in his Hyde costume to give the illusion he could scale the walls and ceilings on buildings whenever necessary.
History
Early life
Dr. Jekyll claimed to have made a vitamin formula one would only had to take once in a person's life, but the concoction went awry and he became the Ghost of Mr. Hyde, a monster transformation also taken on by his great-grandfather. This was a lie, however, and used the story as a cover for his crimes as the monster, since all his experiments had really failed.
Scooby-Doo, Where Are You!
Season two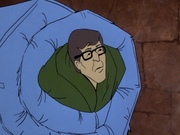 After one of his thefts (at a highrise department store), the Ghost of Mr. Hyde hid in the back of the Mystery Machine, under a blanket, while the gang was in the Malt Shop. Once the gang was on the road, he was soon spotted by Scooby-Doo and the gang; and fled into the marsh. They tracked him down to the old house where Dr. Jekyll's laboratory was. Realizing that they were onto him, he told Scooby, Shaggy Rogers, Fred Jones, Velma Dinkley and Daphne Blake that he was the ghost of Hyde, but against his will, because of that phony story, and having no memory of what he had done. Afterwards, he set up an array of fake clues to frame his house maid Helga.
However, after Shaggy found suction cups in a nearby fruit bowl, he knew that they would give him away, so he captured Shaggy, taking him to the lab and threatened him with a questionable vial he was making, to stop him from telling; Scooby rescued Shaggy, and the gang turned the tables on him by dressing up as Hyde; scaring him, making him fall through a trapdoor and caught in a mattress. He was then unmasked and arrested.[1]
Appearances
Notes/trivia
References