| | |
| --- | --- |
| | This needs a stretch. |
Ghost of Zen Tuo
Vital Statistics
Gender
Male
Hair color
Concealed
Eye color
Concealed
Other Statistics
Identity
A. Fong
Reason
To get a mask with smuggling details in it
Affiliation
Scare Pair
The Ghost of Zen Tuo was the disguise of A. Fong, an oriental art dealer and leader of an international smuggling ring. His two henchmen were also disguised as Zen Tuo's zombie minions. They did this to scare away people that were curious about the haunted Buddhist temple that was a base for his smuggling operation.
Physical appearance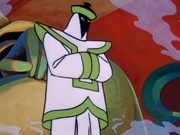 Insert details here.
Personality
Insert details here.
Powers and abilities
Insert details here.
History
Early life
The original Zen Tuo was apparently a warlord.
Scooby-Doo, Where Are You!
Season two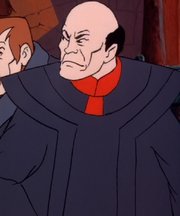 When his elaborate plan of sending his details hidden in priceless golden masks to himself from out of the country had been compromised by his latest mask having been accidently delivered to a curio shop, he tasked his henchmen (while they were in character) to retrieve it. By the time they got there, had already bought it. They tried and failed to steal it.
Having become curious about their interest in it, the gang went to A. Fong's art shop inquiring if he knew anything. He told to them of a story about how it had been stolen from Zen Tuo's crypt and wanted it back. After they left, he ordered his men to retrieve it again this time "on wheels". What followed was a high speed pursuit between them and the Mystery Machine. In the end the Mystery Machine crashed and the zombies got the mask and kidnapped Daphne Blake, too, returning back to their headquarters. The rest of the gang discovered Zen Tuo's location and followed them there. After finding Daphne, they set a trap for Zen Tuo and his followers. They were unmasked and their activities were uncovered.
Appearances
Other versions
Scooby-Doo Unmasked
Zen Tuo was the main villain of the first world, "Shuttery Showdown in Chinatown." He controlled a huge dragon, which was the first boss, and was defeated by Scooby by using the Kung-Fu megastrike. After the dragon was defeated, it malfunctioned and crashed into Zen Tuo. He was unmasked as Maggie Xi, a citizen of Chinatown. However, she was then revealed to be mubber, not real. The gang then found a small radio transmitter and heard a man's voice that said, "You can't catch what you can't hold!" This lead them to the next mystery at the next world, "Rock and Roller Coaster Terror."
Scooby-Doo 2: Monsters Unleashed
The Zen Tuo costume has a cameo as one of the costumes seen in the Coolsonian Criminology Museum. He is seen in the actual film in the middle corner of the screen as Patrick and Velma talk and meet each other for the first time.