Ghosts of two Redcoats
Talk

0
7,761pages on
this wiki
Ghosts of two Redcoats
Information
Gender
Male
Hair
Unseen
Eyes
Unseen
Identity
Todd Yuen
Mayor West
Motive
To get Yuen out of a contract and move to Seaside Bluffs
Powers and Abilities
"Appear and disappear at will"
Production details
First appearance
SD! (DC Comics):
Yankee Doodle Danger
The ghosts of two Recoats were the disguses of Todd Yuen and Mayor West.
Physical appearance
Insert details here.
Personality
Insert details here.
Powers and abilities
"Appear and disappear at will" - they used artificial fog to conceal themselves. The statement that they could appear and disappear at will came from the Mayor, who had a reason to make them sound more supernatural.
History
Scooby-Doo! (DC Comics)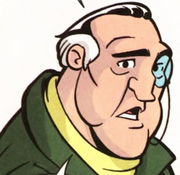 Yuen wanted to get out of his contract with the town and move to Seaside Bluffs, where he had a better business opportunity. He made the Fireworks Monster appear three Fourth-of-Julys in a row, scaring away the tourists. The Redcoat ghosts (himself and Mayor West) set explosive charges in boats to make it appear that the monster could cast fireballs at will. (Yankee Doodle Danger)