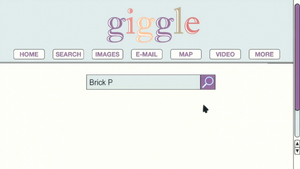 Giggle is an internet search engine favored by Velma Dinkley.
History
Scooby-Doo! Stage Fright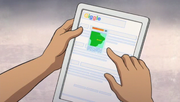 When Shaggy Rogers and Scooby-Doo failed to do any research, Velma was ready with her laptop to search Giggle to see what it had on the suspects.[1]
Scooby-Doo! Ghastly Goals!
Velma used the Giggle search on her tablet to bring up the monster database of Brazil, which helped the gang work out who exactly the monster was they were facing.[2]
Appearances
Notes/trivia
A parody of the Google search engine, with a similar name, colour scheme, and layout design.
See also
References
Ad blocker interference detected!
Wikia is a free-to-use site that makes money from advertising. We have a modified experience for viewers using ad blockers

Wikia is not accessible if you've made further modifications. Remove the custom ad blocker rule(s) and the page will load as expected.