| | |
| --- | --- |
| | This needs a stretch. (Feel to remove when satisfied of completion.) |
Grandma Moonbeam
Vital Statistics
Species
Human
Gender
Female
Hair color
Gray
Eye color
Black
Other Statistics
Occupation
Businesswoman (incarcerated)
Affiliation
Destroido (formerly)
Grandma Moonbeam is the inventor of Nature Slivers.
Physical appearance
She is a short elderly woman with grey hair and wears glasses.
Personality
Grandma Moonbeam acts like a kind person and her intentions were good as she only wanted her healthy recipe back but after Destroido refused, she had to step up her game.
History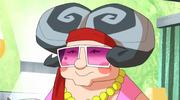 Scooby-Doo! Mystery Incorporated
Season one
She became displeased with Destroido's idea to add landfill to her healthy recipe. So she used cicadas to help her.
Two of the employers were attacked by the Cicada Creature. For the second one, he was visited by Grandma Moonbeam when Mystery Incorporated came in.
When the latest person was attacked, Mayor Fred Jones, Sr. and Sheriff Bronson Stone decided to hold a Cicada Fair to honor it. At the Cicada Fair, Scooby and the gang went into the house of spooky things and they were attacked by the Cicada Monster. Scooby turned on the vacuum and all the cicadas got sucked into the vacuum revealing Grandma Moonbeam in a beekeeper outfit. Grandma Moonbeam wanted to get revenge on the people of Destroido who were making different ingredients for her Nature Silvers. She watched TV and saw a person that was using a machine that controlled animals such as penguins. Instead of using penguins, she used cicadas to create the Cicada Creature. Grandma Moonbeam was arrested by Sheriff Stone. (When the Cicada Calls)
Grandma Moonbeam later seen in the local prison where she was in the prison's cafeteria. (Wrath of the Krampus)
Appearances
Ad blocker interference detected!
Wikia is a free-to-use site that makes money from advertising. We have a modified experience for viewers using ad blockers

Wikia is not accessible if you've made further modifications. Remove the custom ad blocker rule(s) and the page will load as expected.