This needs a stretch. (Feel to remove when satisfied of completion.)
Needed: History.
Gremlin (Gremlin on a Plane)
Vital Statistics
Species
Gremlin
Gender
Male
Hair color
Dark gray
Eye color
Black (yellow sclera)
The Gremlin was the disguise of Ed Johnson, based on the old legends told by pilots.
Physical appearance
The gremlin was a furry, bat-like creature with glowing eyes, fangs, and claws.
Personality
The gremlin was very destructive and behaved aggressively, like a feral animal.
Powers and abilities
The gremlin was an agile climber and demonstrated strong mechanical knowledge in order to sabotage the plane.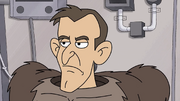 History
Be Cool, Scooby-Doo!
Insert details here.
Appearances
Ad blocker interference detected!
Wikia is a free-to-use site that makes money from advertising. We have a modified experience for viewers using ad blockers

Wikia is not accessible if you've made further modifications. Remove the custom ad blocker rule(s) and the page will load as expected.