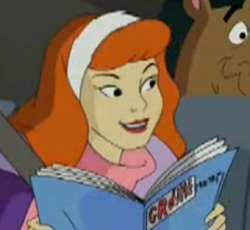 Groupie Monthly is a magazine about music.
History
What's New, Scooby-Doo?
Season two
Daphne Blake was reading it in the van as the gang drove to the Montreal Rock Festival. She said the magazine called the festival, "the greatest."[1]
Appearances
Notes/trivia
The implications of a magazine called "Groupie Monthly" (and Daphne reading it) will hopefully be lost on the younger portion of the audience.
References
Ad blocker interference detected!
Wikia is a free-to-use site that makes money from advertising. We have a modified experience for viewers using ad blockers

Wikia is not accessible if you've made further modifications. Remove the custom ad blocker rule(s) and the page will load as expected.