This needs a stretch. (Feel to remove when satisfied of completion.)
Needed:
* Physical appearance.
* Personality.
Gypsy (Scooby-Doo! Frankencreepy)
Vital Statistics
Species
Human
Gender
Female
Hair color
Black
Eye color
Green
Other Statistics
Occupation
Clothing shop owner
The gypsy was the disguise of Lila, while in Transylvania, Pennsylvania. She was part of a conspiracy group to exact their revenge on the gang for uncovering their past illegal acts which sent them to jail.
Physical appearance
Insert details here.
Personality
Insert details here.
History
Scooby-Doo! Frankencreepy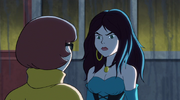 When Daphne Blake wanted a dress in a size 2, she said Daphne was an 8. However, she slipped an inflatable suit into the dress to make Daphne look fat. She was also the first conspirator disguised as Frankencreep, when Velma thought she brought it to life.
Later, when she believed the gang was dead, she started packing up her wagon. Then, she got chased off by Daphne's ghost, which was really her dress being flown like a kite. Once revealed as Lila, she explained that she and her associates met on an "anti-Scooby Gang social website".
Appearances
Ad blocker interference detected!
Wikia is a free-to-use site that makes money from advertising. We have a modified experience for viewers using ad blockers

Wikia is not accessible if you've made further modifications. Remove the custom ad blocker rule(s) and the page will load as expected.