This needs a stretch.
Needed: History.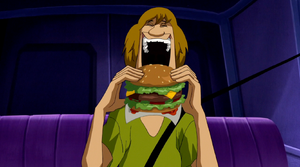 A hamburger (also called burger) is a sandwich consisting of one or more cooked patties of ground meat, usually beef, placed inside a sliced bun. Hamburgers are often served with lettuce, bacon, tomato, onion, pickles, cheese and condiments such as mustard and ketchup.
History
Scooby-Doo, Where Are You!
Season one
The gang found a half-eaten hamburger while investigating the The Ape Man of Forbidden Mountain mansion set. It had claw marks made by the Ape Man, indicating that it couldn't be a real ape. Once that had been realized, Shaggy Rogers was given the ok to eat it, but he didn't want to eat from the same hamburger the Ape Man had. Scooby-Doo, on the other hand, didn't mind and gobbled it up.[1]
Insert details here. (Scooby Doo and a Mummy, Too)
Appearances
References
External links