This needs a stretch. (Feel to remove when satisfied of completion.)
Needed:
* Physical appearance.
* History.
Heather Jasper Howe
Vital Statistics
Species
Human
Gender
Female
Hair color
Blonde
Eye color
Blue
Other Statistics
Occupation
Newscaster (disguise)
Affiliation
Ned
Heather Jasper Howe was the disguise of Dr. Jonathan Jacobo, acting as the manipulative newscaster of Investigative Probe. He did this to discredit Mystery Inc.; one of his plans to get his revenge against them. The disguise was also used to cover his tracks while he was already masquerading as the Evil Masked Figure. He was also in league with the unspecting camera boy, Ned, who also used the identity of the Evil Masked Figure when Jacobo/Heather was unable to do so.
Physical appearance
Insert details here.
Personality
She coaxed Fred Jones into saying things that she would later quote out of context on the air, and also brought Daphne Blake's hopes down on her spot in the gang.
History
Scooby-Doo 2: Monsters Unleashed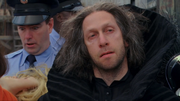 Insert details here.
Appearances
In other languages
References
Ad blocker interference detected!
Wikia is a free-to-use site that makes money from advertising. We have a modified experience for viewers using ad blockers

Wikia is not accessible if you've made further modifications. Remove the custom ad blocker rule(s) and the page will load as expected.