This needs a stretch.
Needed:
* Physical appearance.
* Personality.
* History.
Heather Lane
Vital Statistics
Species
Human
Gender
Female
Hair color
Brown
Eye color
Black
Other Statistics
Occupation
College student (incarcerated)
Affiliation
Luis Cepeda
Heather Lane was a college art student who interned at the Costa Rican Museum, while on an exchange program.
Physical appearance
Heather is a young Caucasian female, with long brown hair.
Personality
Insert details here.
History
What's New, Scooby-Doo?
Season one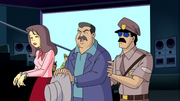 Because of her internship, Heather had easy access to the excavator machine, and using her skills as an art major, Heather designed the dinosaur costume to fit over the excavator machine. Heather's makeshift dinosaur had two purposes, she used it to dig up the gold while scaring everyone away, and the costume concealed her identity while she dug up the gold. Since Luis Cepeda was around when the dinosaur appeared and Heather wasn't, it's safe to assume Heather was the one inside the costume.[1]
Appearances
In other languages
References