| | |
| --- | --- |
| | This needs a stretch. (Feel to remove when satisfied of completion.) |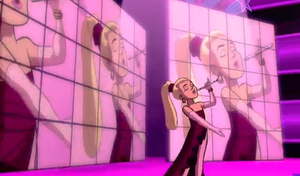 "Homewrecker" is a song performed by Chrissy Damon.
Lyrics
Stay away from my man, homewrecker
Nobody comes, between me and my man

Stay away
(Stay away)
(Stay away)
Or I'll pummel you
I'm a runaway train (Stay away from my man)

Don't think I won't bite you
Don't think I'll lay down (Stay away)
Don't think I won't punch you right to the ground (Stay away)

Noooo-wao-wao-wao-wao (Stay away)

I will never rest
(Don't come by)
Until you're faraway
(my man homewrecker)

(Nobody comes)
My fists are going to put you
(between me and my man)
Into a world of pain

Stay away from my man
History
Scooby-Doo! Stage Fright
This song is sung by Chrissy for the rehearsal and the performance. She didn't win with the song.
Performances
Notes/trivia
This is the second of four songs in the film.
Fred, Velma, and Daphne all note how inappropriate the song is considering the girl's age.
Real-world credits
Ad blocker interference detected!
Wikia is a free-to-use site that makes money from advertising. We have a modified experience for viewers using ad blockers

Wikia is not accessible if you've made further modifications. Remove the custom ad blocker rule(s) and the page will load as expected.