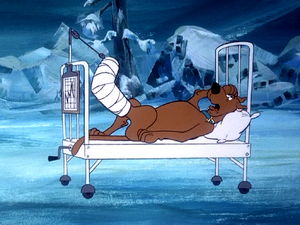 A hospital bed is a bed specially designed for hospitalized patients or others in need of some form of health care.
Physical appearance
Insert details here.
History
Early history
Mumsy-Doo rested in a hospital bed after giving birth to her first baby boy Scooby.[1]
Scooby-Doo, Where Are You!
Season one
When Scooby-Doo was elected the most suitable to check inside Fu Lan Chi's cave, which they suspected of being the home of the Snow Ghost, he feigned sickness by getting on a hospital bed, with one of his legs in a cast, and suspended in the air. In response, Shaggy Rogers yanked it backwards, making him fall off (also losing the leg cast in the process).[2]
Scooby and Scrappy-Doo (second series)
Season one
Shaggy and Scooby remembered back to when the latter's sister, Ruby-Doo, laid in a hospital bed when she was being taken to St. Bernard's Memorial Hospital's delivery room. She then rested in another after her baby, Scrappy, was born. Shaggy and Scooby were in their own beds in casts and bandages due to being clobbered by an orderly.[3]
Season two
Insert details here. (Pigskin Scooby)
The New Scooby and Scrappy Doo Show
Insert details here. (Scoobsie)
Scooby-Doo! Legend of the Phantosaur
Shaggy sat at the end of a hospital bed in a hospital's emergency room, being treated by a doctor for a scream which lasted several hours.[4]
Scooby-Doo! and KISS: Rock and Roll Mystery
Insert details here.
Appearances
References
External links