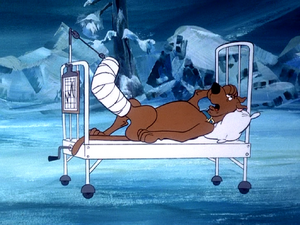 A hospital bed is a bed specially designed for hospitalized patients or others in need of some form of health care.
Physical appearance
Insert details here.
History
Scooby-Doo, Where Are You!
Season one
When Scooby-Doo was elected the most suitable to check inside Fu Lan Chi's cave, which they suspected of being the home of the Snow Ghost, he feigned sickness by getting on a hospital bed, with one of his legs in a cast, and suspended in the air. In response, Shaggy Rogers yanked it backwards, making him fall off (also losing the leg cast in the process).[1]
Scooby-Doo! Legend of the Phantosaur
Shaggy sat at the end of a hospital bed in a hospital's emergency room, being treated by a doctor for a scream which lasted several hours.[2]
Scooby-Doo! and KISS: Rock and Roll Mystery
Insert details here.
Appearances
References
External links
Ad blocker interference detected!
Wikia is a free-to-use site that makes money from advertising. We have a modified experience for viewers using ad blockers

Wikia is not accessible if you've made further modifications. Remove the custom ad blocker rule(s) and the page will load as expected.