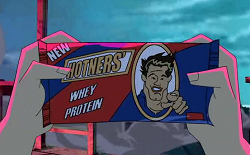 Hotners' is a brand of whey protein bars endorsed by Baylor Hotner; it has his face on the wrapper.
History
Scooby-Doo! Mystery Incorporated
Season two
Hotner gave one of these to Fred Jones, Jr. when he took him for a hobo.
Appearances
Notes/trivia
The placement of the apostrophe in the name is odd, since one might expect "Hotner's" as the brand name of a product named for the actor. Perhaps the company that makes the bars is owned by Baylor's family, and they enlisted their famous son to endorse them.
Ad blocker interference detected!
Wikia is a free-to-use site that makes money from advertising. We have a modified experience for viewers using ad blockers

Wikia is not accessible if you've made further modifications. Remove the custom ad blocker rule(s) and the page will load as expected.