This needs a stretch. (Feel to remove when satisfied of completion.)
Needed: History is incomplete.
Other Statistics
Identity
Jax Minner (Red Humungonaut);
Max Minner (Green Humungonaut)
Reason
To ruin each other's business
Powers and abilities
Super strength
The term Humungonaut was a name coined by Sheriff Bronson Stone for two independent monsters who were destroying property in Crystal Cove. The Sheriff thought they might be aliens.
Individuals
History
Early history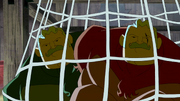 Max and Jax Minner developed the costumes together for a circus strongman act they were going to call the "Hercules Apes", before Max joined a rival circus. They became bitter rivals after that, and eventually became insurance salesmen in Crystal Cove.
Scooby-Doo! Mystery Incorporated
Season one
Insert details here. (Battle of the Humungonauts)
Insert details here. (The Wild Brood)
Appearances
Notes/trivia
The outfits are a reference to a 1970's film call War of the Gargantuas, or in Japan, Frankenstein's Monsters: Sanda versus Gaira.
References
Ad blocker interference detected!
Wikia is a free-to-use site that makes money from advertising. We have a modified experience for viewers using ad blockers

Wikia is not accessible if you've made further modifications. Remove the custom ad blocker rule(s) and the page will load as expected.