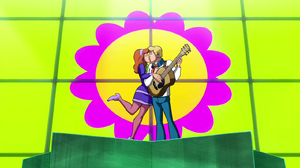 "I Love You" is a song performed by Blake and Jones.
Lyrics
We've been close a long time
As close as friends can be,
But in my heart's a secret
For only you and me.

I've tried to tell it many times
But my nerves got in the way,
Well I can't wait another night
To say what I must say

I love you (I love you)
I love you, yes I do
I love you (I love you)
History
Scooby-Doo! Stage Fright
It was performed by Blake and Jones in the tie-breaker of Talent Star. The music was composed by Fred Jones, while the lyrics were written by Daphne Blake.
Performances
Notes/trivia
This is the fourth of four songs in the film.
Real-world credits
Ad blocker interference detected!
Wikia is a free-to-use site that makes money from advertising. We have a modified experience for viewers using ad blockers

Wikia is not accessible if you've made further modifications. Remove the custom ad blocker rule(s) and the page will load as expected.