This needs a stretch. (Feel to remove when satisfied of completion.)
Needed:
* Physical appearance.
* Personality.
* History is incomplete.
Ishmael Masthead
Vital Statistics
Species
Human
Gender
Male
Hair color
White
Eye color
Black
Other Statistics
Occupation
Cargo boat driver
Ishmael Masthead runs a cargo boat across the Nile.
Physical appearance
He is an middle-aged male, with white hair. He wears the attire of a sailor. He holds an old pipe cigar.
Personality
He is kind-hearted, friendly and always helpful whenever someone is in need.
History
Scooby-Doo! Mystery Adventures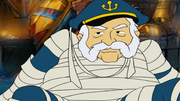 Fred Jones, Daphne Blake, Velma Dinkley, Shaggy and Scooby rescued him by putting fish in multiple barrels because he mentioned that the mummy pushed him down the hole. He repaid the gang with a boat ride to an old archaeological dig workplace, and gave them a clue to help them. He later gave them Egyptian coins as a token for his appreciation and gratitude.
Possible ending
The mummy was caught and revealed to be Ishmael. Fred informed the officer that Ishmael's ferry business wasn't going well so he hatched a scheme to steal the hidden pyramid treasure by dressing up as a mummy, which led to him kidnapping Velma's aunt and scaring everyone off so he could plunder the pyramids in peace. His sloppy work with dropping clues that the gang found, gave him away.
Appearances
Ad blocker interference detected!
Wikia is a free-to-use site that makes money from advertising. We have a modified experience for viewers using ad blockers

Wikia is not accessible if you've made further modifications. Remove the custom ad blocker rule(s) and the page will load as expected.