This needs a stretch.
Needed:
* Physical appearance.
* History.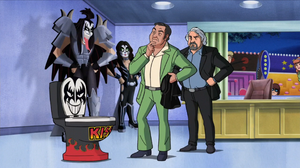 A KISS Toilet is a KISS-themed toilet.
Physical appearance
Insert details here.
History
Scooby-Doo! and KISS: Rock and Roll Mystery
When arguing over Manny Goldman's need for KISS to perform at KISS World to keep it open, Chip McGhoo said it could go down the toilet for all he cared (as it takes profit of the time they could be spending on tour), preferably the KISS Toilet he was trying to sell. He then wondered how he was going to unload them.[1]
Appearances
References