This needs a stretch. (Feel to remove when satisfied of completion.)
Needed:
* Physical appearance.
* History.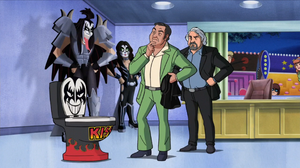 A KISS Toilet is a KISS-themed toilet.
Physical appearance
Insert details here.
History
Scooby-Doo! and KISS: Rock and Roll Mystery
When arguing over Manny Goldman's need for KISS to perform at KISS World to keep it open, Chip McGhoo said it could go down the toilet for all he cared (as it takes profit of the time they could be spending on tour), preferably the KISS Toilet he was trying to sell. He then wondered how he was going to unload them.[1]
Appearances
References
Ad blocker interference detected!
Wikia is a free-to-use site that makes money from advertising. We have a modified experience for viewers using ad blockers

Wikia is not accessible if you've made further modifications. Remove the custom ad blocker rule(s) and the page will load as expected.