Kelp Monster
Vital Statistics
Species
Sea creature
Gender
Male
The Kelp Monster was the disguise of Mr. McFinn.
Physical appearance
The Kelp Monster is a big glowing green seaweed creature with eye holes, a mouth hole, legs, and arms.
Personality
The Kelp Monster was very cruel when helping the Ghost of Captain Pescado and the Octopus Monster trapping Velma Dinkley, Fred Jones, and Daphne Blake.
History
The Scooby-Doo Show
Season one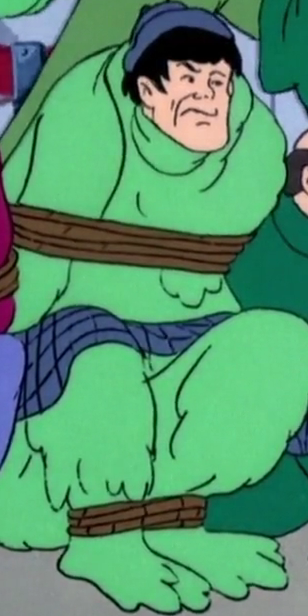 The Kelp Monster attacked the gang alongside the Ghost of Captain Pescado and the Octopus Monster. He was sleeping in the control center, until the Octopus Monster chased Shaggy Rogers and Scooby-Doo and the Kelp Monster woke up and chased Velma Dinkley. The Kelp Monster and his pals found Scooby, Shaggy, and Velma in a sunken ship. The three ghosts were captured. Pescado was First Mate Carp, Kelp Monster was McFinn, and the Octopus Monster was Mr. McGil. The three criminals were taken to jail.
Appearances
Notes/trivia
Ad blocker interference detected!
Wikia is a free-to-use site that makes money from advertising. We have a modified experience for viewers using ad blockers

Wikia is not accessible if you've made further modifications. Remove the custom ad blocker rule(s) and the page will load as expected.