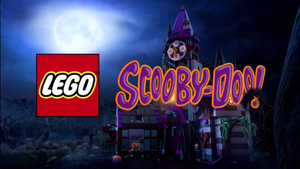 LEGO Scooby-Doo! is a theme from LEGO. On January 23, 2015, the LEGO Group and Warner Bros. Consumer Products announced that they were manufacturing licensed products of Scooby-Doo, beginning at five sets and to be sold in stores from August the same year.[1] The first five sets hit the shelves on August 21, 2015.
Minifigures
Scooby-Doo
Shaggy Rogers
Fred Jones
Daphne Blake
Velma Dinkley
Zombie
Black Knight
Mummy
The Headless Horseman
Swamp Monster
Lighthouse Keeper
Vampire
Ghost
Playsets
Wave 1
These were released on August 21, 2015.
Other sets
Gallery
See also
References
External links
Ad blocker interference detected!
Wikia is a free-to-use site that makes money from advertising. We have a modified experience for viewers using ad blockers

Wikia is not accessible if you've made further modifications. Remove the custom ad blocker rule(s) and the page will load as expected.