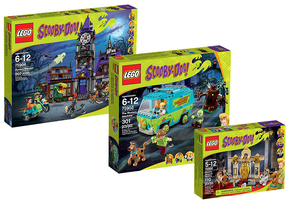 LEGO Scooby-Doo! 5004810 LEGO Scooby-Doo Collection is an exclusive to LEGO's online store, collecting three out of five sets from the first wave of its Scooby-Doo! theme: Mystery Mansion, The Mystery Machine, and Mummy Museum Mystery.
LEGO.com description
Insert details here.
Notes/trivia
Despite the three sets not being sold as "one" complete set in retail stores, the LEGO Shop doesn't consider that to be a rarity, since it isn't featured on their "exclusives" page.
External links
Ad blocker interference detected!
Wikia is a free-to-use site that makes money from advertising. We have a modified experience for viewers using ad blockers

Wikia is not accessible if you've made further modifications. Remove the custom ad blocker rule(s) and the page will load as expected.