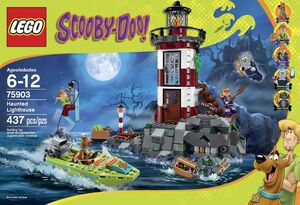 LEGO Scooby-Doo! 75903 Haunted Lighthouse is a set from the first wave of LEGO's Scooby-Doo! theme. It has 437 building pieces, with five minifigures, and additional accessories. It hit the shelves in August 2015.
LEGO.com description
Insert details here.
Contents
Notes/trivia
This set is loosely based on the What's New, Scooby-Doo? episode, Fright House of a Lighthouse; this is the only set beside Mystery Plane Adventures, not to be based on a Scooby-Doo, Where Are You! episode. The main difference between this set and Fright House of a Lighthouse, is the inclusion of the Swamp Monster, who did not appear (for some reason they chose the Swamp Monster over a skeleton). To rectify this, the Walmart-exclusive DVD, intended to promote the new releases of the LEGO Scooby-Doo! theme, included the The New Scooby-Doo Mysteries episode, Scoo-Be or Not Scoo-Be?, which did have the similarly looking Sea Demon, who was one of that episode's monsters.
Gallery
External links
Ad blocker interference detected!
Wikia is a free-to-use site that makes money from advertising. We have a modified experience for viewers using ad blockers

Wikia is not accessible if you've made further modifications. Remove the custom ad blocker rule(s) and the page will load as expected.