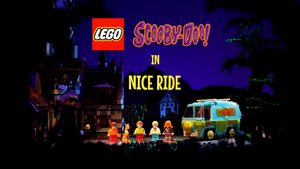 LEGO Scooby-Doo! in Nice Ride is the eleventh online stop motion short produced by Stoopid Buddy Stoodios, to promote the first wave of LEGO's Scooby-Doo! theme. It was originally uploaded on March 29, 2016.[Note 1]
Premise
A show-off racer insults the Mystery Machine, so Shaggy teaches him a lesson he won't forget.
Synopsis
The Mystery Machine stops at a redlight, with a honking racecar pulling up beside it. The racecar driver mockingly says that it's a nice ride. The driver is playing his stereos, so Shaggy activates the Mystery Machine's stereos, which pop up from the roof. However, this just makes the racer laugh. So, Shaggy pops up some bigger ones, which are so loud, they shatter the racecar. Shaggy then drives away in triumph, with the racecar driver saying how it's a nice ride again, but in complete awe and shock.
Characters
Main characters:
Supporting characters:
Villains:
Racer (single appearance)
Other characters:
Locations
Objects
Vehicles
Notes/trivia
This is the first short not to have any of the main characters talk.
Quotes
Footnotes
↑

WB Kids's YouTube account actually had it as far back as September 18, 2015, but had made it private.
References
External links
Watch at the LEGO Scooby-Doo! subsite
Watch at LEGO's YouTube account
Watch at WB Kids' YouTube account
Ad blocker interference detected!
Wikia is a free-to-use site that makes money from advertising. We have a modified experience for viewers using ad blockers

Wikia is not accessible if you've made further modifications. Remove the custom ad blocker rule(s) and the page will load as expected.