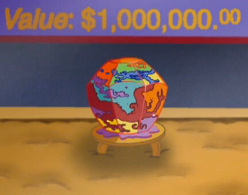 The Ling Ming Candy Ring is an million-dollar artifact from the Ming Dynasty of China, a candy ring that once belonged to a child emperor.
History
What's New, Scooby-Doo?
Season three
It was on display in the window of one of the stores owned by the Ling Toy Co. and it was stolen by the Dragon. Mystery Inc. solved the case and recovered the ring, but then Scooby-Doo accidentally swallowed it.
Appearances
Ad blocker interference detected!
Wikia is a free-to-use site that makes money from advertising. We have a modified experience for viewers using ad blockers

Wikia is not accessible if you've made further modifications. Remove the custom ad blocker rule(s) and the page will load as expected.