Chronology
Previous story

Next story

Lost is the second of three stories in Scooby-Doo #20, by Archie Comics. It was preceded by The Legend of Spooky-Doo, and followed by Spooky Space Kook.
Premise
Scooby & Shaggy check out an old house, where they get the shock of their lives.
Synopsis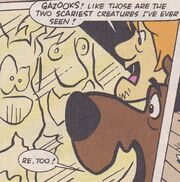 The guys are lost in the middle of nowhere, spotting a house they think the poeple inside can help them out. They get worried about who or what might be inside, opening the door slowly (as quite clearly nobody is there to answer). Shaggy points his flashlight into the dark room and spots what he considers to be two terrible creatures, so the duo run for the door as fast as they can, not realising they're looking at their own reflections.
Characters
Main characters:
Supporting characters:
Villains:
Other characters:
Locations
Objects
Vehicles
Suspects
Culprits
Notes/trivia
Miscellaneous
Disguises: None.
Scooby Snacks bribe: 0.
"Zoinks" count: 0.
"Jeepers" count: 0.
"Jinkies" count: 0.
Coloring mistakes
Scooby's dogtag is completely gold.
Inconsistencies/continuity errors and/or goofs oddities
They must've realised nobody was home (as if the appearance wasn't obvious enough) when they seemed to enter without even knocking first.
Quotes
Ad blocker interference detected!
Wikia is a free-to-use site that makes money from advertising. We have a modified experience for viewers using ad blockers

Wikia is not accessible if you've made further modifications. Remove the custom ad blocker rule(s) and the page will load as expected.