| | |
| --- | --- |
| | This needs a stretch. (Feel to remove when satisfied of completion.) |
Mace Middlemost
Vital Statistics
Gender
Male
Hair color
Black
Eye color
Black
Mace Middlemost was the manager for the GSI: Ghost Scene Investigators TV show.
Physical appearance
Mace was Caucasian male with a small peachfuzz on his chin. His wardrobe consisted of a short-sleeved yellow shirt, brown pants and a black vest. He always wore his headset and red cap.
Personality
Mace appeared to have an addiction to "high ratings" for the TV show he managed.
History
Scooby-Doo! Who's Watching Who?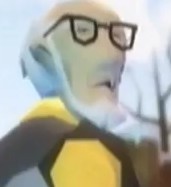 He introduced Mystery Inc. to the viewers with the GSI. He was managing a special episode of Ghost Scene Investigators where the Scooby gang would test their methods for mysteries.
When the show's ratings began to rise because of the Scooby gang, he invited them on more mysteries, despite GSI's protests.
After the mystery in Ocean Land; he became so greedy for the show's "high ratings" that he told the GSI that he was replacing them with Mystery Inc.. He also insisted that the gang get a vacation, so they went to Wolf's End Lodge, where the GSI came in.
At the climax, Mace was unmasked as the Ghost Hunter Haunter. At the very end, Scooby revealed that Mace was really Old Man Wiggins.
Appearances
Notes/trivia
Ad blocker interference detected!
Wikia is a free-to-use site that makes money from advertising. We have a modified experience for viewers using ad blockers

Wikia is not accessible if you've made further modifications. Remove the custom ad blocker rule(s) and the page will load as expected.