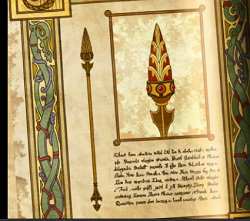 The Magic Staff was a magic item that was supposed to control the Gryphon of O'Flannery Manor.
Early history
It was hidden in O'Flannery's island tomb at Shadow Lake, which was supposed to be guarded by a Banshee.
History
Scooby-Doo! Abracadabra-Doo
Shaggy Rogers found the staff and used it to fight against the mechanical Gryphon of Marlon Merlin, and he brought it down, in a way fulfilling the legend.
Appearances
Ad blocker interference detected!
Wikia is a free-to-use site that makes money from advertising. We have a modified experience for viewers using ad blockers

Wikia is not accessible if you've made further modifications. Remove the custom ad blocker rule(s) and the page will load as expected.