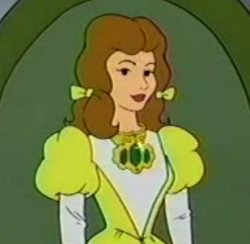 The emerald necklace was a prized possession of Magnolia, stolen on her wedding day to Colonel Beauregard.
History
Early history
Magnolia was going to marry Beauregard on the Delta Queen, but she left him at the altar when she thought he had stolen her emerald necklace. In fact, the necklace was stolen by the captain of the Delta Queen, a rival for her affection, and hidden in the steering wheel of his ship in order to ruin the wedding.
The New Scooby-Doo Mysteries
Daphne Blake found it still hidden in the steering wheel decades later. It was the object of Pops Baloney's greed, the reason he dressed up as the Ghost of Colonel Beauregard.[1]
Apperances
References
Ad blocker interference detected!
Wikia is a free-to-use site that makes money from advertising. We have a modified experience for viewers using ad blockers

Wikia is not accessible if you've made further modifications. Remove the custom ad blocker rule(s) and the page will load as expected.