Manticore
Talk

0
6,831pages on
this wiki
Needs a stretch!
This article needs more details, such as a synopsis. Remove this tag when the article has been properly expanded.
Manticore
Information
Gender
Male
Hair
Brown
Eyes
Glowing yellow
Identity
Hot Dog Water
Motive
Shut park down/get rich from super-helium
Powers and Abilities
Flight; super strength
Production details
First appearance
SDMI: Menace Of The Manticore
Played by
Frank Welker
The Manticore was the disguise of Hot Dog Water.
Physical appearance
It has the body of a lion, wings like a dragon, a tail like a scorpion, and a distorted human face.
Personality
Insert details here.
Powers and abilities
It can fly and it has great strength. Its tail can be used for piercing attacks also.
History
Scooby-Doo! Mystery Incorporated
Season one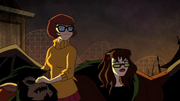 It was built around a super-helium balloon to allow flight. She used it to attack tourists at the Creepy Spooky Terror Land amusement park, owned by her father, Winslow Fleach. She wanted to shut the park down so she could make more super-helium and get rich. She was then arrested by Deputy Bucky as a wrecked fortune-telling machine told her that she would be defeated by a group of meddling kids.
Appearances
Quotes
"You are doomed, flee-covered one! Doomed!"
- Manticore
Notes/trivia