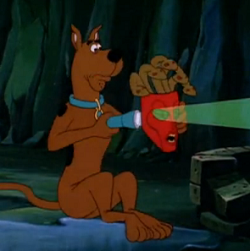 Medusa is a Gorgon who can turn people to stone.
The New Scooby-Doo Mysteries
Intro
Medusa can be seen dancing with Wolfman, Dracula, Igor, Frankenstein, and Gill-Man.
Episodes
In The Stoney Glare Stare, several people are literally turned to stone by the Mask of Medusa.
What's New Scooby-Doo
In It's All Greek to Scooby-Doo, Daphne dressed herself as a Gorgon to stop the Centaur.
DC Comics
Velma once gave a lecture on the history of Medusa.