This needs a stretch. (Feel to remove when satisfied of completion.)
Needed: History is incomplete.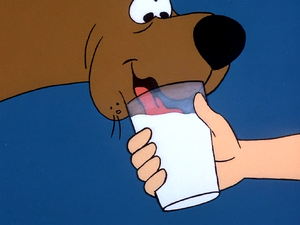 Milk is an opaque white liquid containing fats, lactose, and vitamins and minerals.
History
The New Scooby-Doo Movies
Season one
With the Batmobile stolen, the gang offered the use of their Mystery Machine to Batman and Robin to search for their own vehicle back at the Batcave. As Shaggy Rogers got in the van, he asked Batman if he could have a snack while there. Batman was happy to oblige and said they'd all have bat-cookies and bat-milk, the latter of which worried Shaggy.
While at the Batcave, Scooby-Doo and Shaggy had their cookies and milk (where the latter found the cookie more questionable than the milk), although Scooby took Shaggy's milk while he was still holding his glass.[1]
The Scooby-Doo Show
Season one
Dr. Tooksbury had glasses of milk served at the dinner he had prepared for the gang.[2]
What's New, Scooby-Doo?
Season one
Insert details here. (Space Ape at the Cape)
Appearances
References
External links
Ad blocker interference detected!
Wikia is a free-to-use site that makes money from advertising. We have a modified experience for viewers using ad blockers

Wikia is not accessible if you've made further modifications. Remove the custom ad blocker rule(s) and the page will load as expected.