For the Scooby-Doo 2: Monsters Unleashed incarnation based on this, see Miner 49er.
| | |
| --- | --- |
| | This needs a stretch. |
Miner Forty-Niner
Information
Gender
Male
Hair
Gray
Eyes
Black
Identity
Hank
Motive
To get oil land cheap
Production details
First appearance
SDWAY: Mine Your Own Business
Miner Forty-Niner was the disguise of Hank, used to scare off employers and guests of the Gold City Guest Ranch so he could buy the land cheap from the owner, Big Ben, for the oil underneath.
Physical appearance
He has a large grey beard along with a large grey mustache. He wears a brown cowboy hat, which covers most of his face. The facial hair covers his mouth, and his hat covers his eyes, so only his nose and part of his cheeks are able to be seen. His great height actually comes from Hank wearing stilts.
He wears brown pants and a long-sleeve blue top, over which he wears an open black waistcoat..
Personality
For the most part he remains expressionless throughout chasing the gang. At times he grunts as well as letting out moans to scare people.
He attempts to grab Scooby and the gang at some points but that's the extreme of his actions mostly.
History
Scooby-Doo, Where Are You!
Season one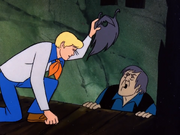 The Mystery Inc. gang end up in Gold City, a ghost town inhabited by the Miner Forty-Niner, a ghost who is in search of the last vein of gold. Each night the mine moans, calling for him and scaring away everyone but the gang, who want to know what is going on.
Appearances
Other versions
Scooby-Doo! Mystery Incorporated
Velma Dinkley took her tour inside the Crystal Cove Spook Museum. The costume was there and she mentioned his name as she started to reveal the hoaxes behind them all before being stopped by her parents.