This needs a stretch. (Feel to remove when satisfied of completion.)
Needed: History is incomplete.
Monster Mania monsters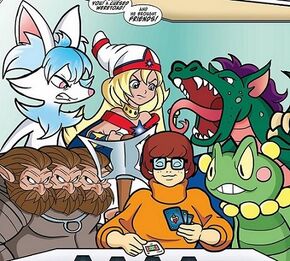 Vital Statistics
Other Statistics
Identity
Tom's wife and kids
Reason
They wanted Tom to come home
The Monster Mania monsters were various disguises used by Tom's wife and kids.
Monsters
Cursed Weretoad
Oversized Fox Assasin
Many-headed Dwarf
Electric Dragon
Heavenly Rainbow Warrior
Old Sorcerer of the Wind
Mountain Gale Dweller
Ethereal Jackalope
History
Scooby-Doo! Where Are You? (DC Comics)
They dressed up as the Monster Mania monster to scare everyone away so Tom could come home.
Appearances