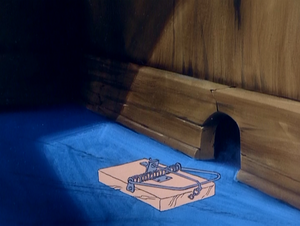 A mousetrap is a specialized type of trap designed to catch mice.
Physical appearance
It appears like a 19th-century spring-loaded bar-type mousetrap.
Abilities
It can catch mice. However, it can also unintentionally trap other small animals.
History
Scooby-Doo, Where Are You!
Season one
Big Ben set one in motion outside a mouse hole in his hotel ranch. As he welcomed the gang, Scooby-Doo wandered off to find the mousetrap with a piece of Swiss cheese on top. Scooby took it for himself, bringing the mouse out in a rage.
Appearances
External links