Mr. Dilton
Vital Statistics
Species
Human
Gender
Male
Hair color
Brown
Eye color
Black
Other Statistics
Occupation
Museum owner (incarcerated)
Affiliation
Parker Place
Mr. Dilton turned Purvis Parker's house into a museum when the musician disappeared and was believed to be dead.
Physical appearance
He's a tall skinny man, with a pointed nose and hair on the back of his head.
Personality
He seemed nice when the gang met him, though he tends to be a bit of a grouch when he gets upset. But, he was shown to be greedy and selfish.
History
A Pup Named Scooby-Doo
Season two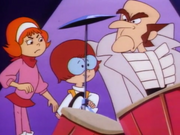 He first met the gang when they arrived at Parker Place, to solve the mystery of the Ghost of Purvis Parker. He made change to Daphne's $100 bill, even though he said business was bad.
He became outraged when the gang caught him by mistake, deciding to close down Parker Place the next day.
He was unmasked as the Ghost to ruin Buddy Chillner.
Appearances
In other languages
Ad blocker interference detected!
Wikia is a free-to-use site that makes money from advertising. We have a modified experience for viewers using ad blockers

Wikia is not accessible if you've made further modifications. Remove the custom ad blocker rule(s) and the page will load as expected.