For the live-action character based on this one, see Jeremiah Wickles.
Mr. Wickles
Vital Statistics
Alias
Wickles
Species
Human
Gender
Male
Hair color
Black
Eye color
Black
Mr. Wickles was the curator of the County Museum.
Physical appearance
Wickles is a fairly short, middle-aged Caucasian male. While bald on top of his head, his remaining hair is black, and he wears round and thick-framed glasses. He wears a light blue shirt, with a black tie, underneath a brown overcoat, brown pants, and black shoes.
Personality
Wickles appears to be friendly natured, as he tells the gang about the mysterious disappearance of Professor Hyde White, which apparently only makes him more suspicious to the gang.
History
Scooby-Doo, Where Are You!
Season one
He was first seen at the museum thanking the gang for bringing the
Black Knight
ghost statue to him. Then he tells the gang that they shouldn't have with the mysterious disappearance of the professor, and because of the legend that the Black Knight coming to life at the full moon.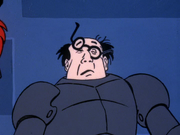 He was unmasked as the Black Knight, once the gang found out what his scheme at the museum after they suspected him. He was working on fake paintings and switching them for the real ones at the museum, which was why he kidnapped Prof. Jameson Hyde White, because he was the only one who spotted the fake paintings Wickles made.[1]
Appearances
Other versions
Western Publishing adaptation
Insert details here. (What a Night for a Knight)
Scooby-Doo! Classic Creep Capers
Mr. Wickles was the county museum's curator and dressed up as the Black Knight to scare people away from Rex Necros's art forgery operation.[2]
Notes/trivia
In other languages
References
Ad blocker interference detected!
Wikia is a free-to-use site that makes money from advertising. We have a modified experience for viewers using ad blockers

Wikia is not accessible if you've made further modifications. Remove the custom ad blocker rule(s) and the page will load as expected.